Mr. Byrd visits his alma mater for Homecoming week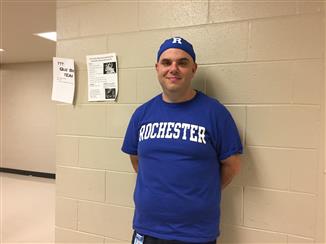 Math teacher Mr. Robert Byrd had the opportunity to walk through his old high school, Franklin and reunite with his former classmates from over 20 years ago. With homecoming week in full bloom, Mr. Byrd was feeling some deja vu.
"I have some great memories from the high school dances that I attended," Mr. Byrd said. "But I admit that I did not attend all of my high school dances. RHS has so much more going on than my high school did at the time, so I'd like to think I attended what I could."
One thing noticeably different between the way RHS does homecoming compared to how Mr. Byrd's high school did homecoming, is that RHS does not have a parade, and Mr. Byrd's former high school does not have a lip sync program as developed as the one at RHS.
"My alma mater built floats and had a parade. I wish we had a homecoming parade where we could involve our feeder schools. However, it would be a logistical nightmare so I get why it doesn't happen," Mr. Byrd said. "This year was the first year that Franklin had a lip sync competition. But they only had a four person team representing each class. That was adorable, but I like how we have tons of people participating."
Nowadays, students are concerned with how people are going to ask each other to homecoming. However, huge homecoming proposals are a relatively modern thing. Mr. Byrd empathizes with those involved with these proposals, due to the over-the-top nature of them.
"I can't express enough how badly I feel for everyone involved in promposals, or homecoming proposals," Mr. Byrd said. "Like, one day people are going to get married, and the guy has to top what his fiancee's high school boyfriend did for prom, and that is going to be crazy. It just puts forth an unrealistic expectation for all involved."
Homecoming proposals aren't the only thing different students at Franklin experienced compared to the experience students are having today. One of the most shocking aspects of going back to his high school for Mr. Byrd was seeing how different things look.
"It was really weird actually walking through my old high school with my fellow classmates. They have changed it cosmetically over the last 21 years. The saddest thing is that the murals that my wife had painted are all gone," Mr. Byrd said. "However, the front office looks like a professional office now, which helps their secretaries. They have also changed their theater and their fine arts wing, and I look forward to seeing that during winter break."
Overall, Mr. Byrd believes that the greatest part of homecoming is that it is a good opportunity to bring old friends together.
"The best part of homecoming is reconnecting with people. This week, I have reconnected with both my high school band director and two of my former students from RHS (so far). These are people who have helped shape my view of the world as both a teenager and as an educator. It is, by far, the part that is the best."