Six upcoming Michigan music festivals you should attend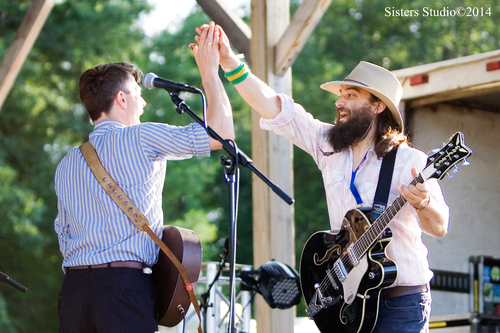 As the school year starts to come closer to it's end, many (especially our senior class), start to excitedly make plans for the summer. However, as the average Michigan festival enthusiast knows, summer plans can't be put off until last minute (tickets are selling fast!). With Coachella happening at the end of April, music lovers everywhere have no time to waste when forming their  festival agenda. Even if you're just looking for an exciting day under the sun with some friends, music festivals can be a great choice. Whether you're into EDM, Indie, Pop or even Bluegrass, here's a list of six music festivals you might want to start reserving tickets for this spring/summer season.
MOPOP
When: July 23-24
Where: Detroit, Mich.
MOPOP Detroit is an annual event hosted in West Riverfront Park that primarily features artists that enter the alternative/Indie spectrum. As most of the lineup is much more on the "pop" side of alternative, the festival has proven to be successful with fans in the area. Considering that the alternative music genre is so broad, this one label cannot cover the entirety of MOPOP. The 2016 lineup swings around the styles of G-Eazy and M83, contrasting with performances from Mac Demarco and Alex G. It also includes alternative artists like HAIM, Matt and Kim, and Glass Animals, with bands like FIDLAR providing even more variety in the mix. Overall, MOPOP Detroit fits any aspect of "chill" that you'd hope to find at an alternative festival.
     2. ELECTRIC FOREST
When: June 23-26
Where: Rothbury, Mich.
Possibly the most popular festival on the list, with 35,000 people fleeting in from across the US and Canada, Electric Forest 2015 had sold out in less than 24 hours – and will likely be no different in 2016. This festival focuses primarily on the EDM genre (standing for 'Electronic Dance Music') but is not entirely limited to it. With a lineup including The String Cheese Incident, Fetty Wap, Major Lazer, & Flosstradamus, Electric Forest will prove to be a truly exciting event. Located in Rothbury, MI's Sherwood Forest, it's common for participants to camp, hammock, and backpack on the site. The festival also includes multiple displays of art throughout, all set up amongst brightly lit trees to give a stunning and dreamlike feel.
     3. CHILL ON THE HILL
When: Sept 12-13
Where: Sterling Heights, Mich.
Yet another festival that offers varying types of "alternative", Chill on the Hill seems to have the most contrast in genres from the shows our list. Though the lineup has not been announced yet for 2016's festival, 2015's performers included indie artists such as Cage the Elephant, Cold War Kids, The Wombats, and others. It also featured more popular performers like Weezer and Panic! At the Disco; while jumping into a few metalcore/post-harcore bands, like We Came as Romans and Bearooth.  If you're looking for a bit of variety in your festival, (without the pop, rap, or EDM) Sterling Height's Chill on the Hill is for you.
     4.  NOREAST'R
When: June 10, 11, 12
Where: Fairview, Mich.
Attention, new-age counterculture: Fairview, Michigan produces an annual festival that caters to fans that surely would have trekked to Woodstock all the way back in 1969. Noreast'r, though definitely more friendly for all ages than Woodstock, definitely gives off the same vibe of throwback-style freedom and peace. Believe it or not, Noreast'r has featured bands consisting of high school students in the Rochester area in past years- of which 2016 will be no different. The festival features more local and less popular bands- usually of more rock n' roll, bluegrass, indie, etc styles to give a "new-age hippie" feel. Along with the music, listeners can browse various art and clothing vendors (get ready for the tie-dye) on the grounds. Set up amongst nature trails and forest life, most festival-goers choose to camp out in the beautiful nearby wilderness for the three-day event.
     5. BLED FEST
When: May 28
Where: Howell, Mich.
For all of you alternative/emo fans that find yourself jamming to Modern Baseball, The Front Bottoms, and Real Friends, Bled Fest has you covered. Finally! A festival specifically for this sub-genre! Most followers might find it difficult to stumble upon a show that has more than one or two bands that belong in this category, but Bled Fest has come to their rescue! Though the event doesn't happen until September, the latest on the list, it's still a good idea to consider buying your tickets in the upcoming months. Fans will surely find that a trip to this festival proves as a great final fling to the end of the summer.
     6.  HOXEYVILLE
When: August 19-21
Where: Wellston, Mich.
Here's a festival not so typical to the rest we've covered. All-around, we know it's easy to find fans of pop, EDM, rock, and alternative. But, have you ever met a Bluegrass fan? Chances are likely slim, but Hoxeyville Bluegrass Festival in Wellston, MI is where it all comes together. Bluegrass owes it's roots to multiple branches of country and classic rock n' roll, so the shows guarantee a wholehearted feeling. In a mix twanging bluegrass riffs, newcomers can explore 100+ acres of farmland among the Manistee National Forest. Hoxeyville is an epicenter of summer fun, with multiple biking trails, river spots, and camping sites. If you're looking for a swingin' time (that is, some pristine hammocking trees), Hoxeyville Bluegrass Festival is the ticket for you.