Being a High School RARA basketball coach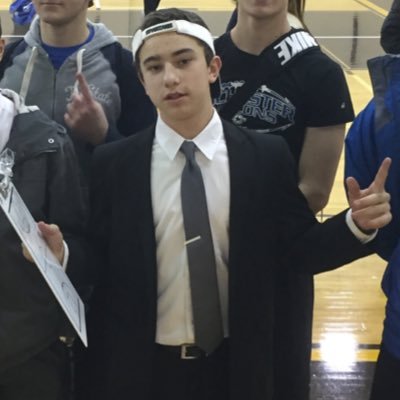 From playing on the hardwood himself to managing the sidelines, senior Nate Kustasz is one of few high schoolers to translate his passion for the game from playing to coaching RARA basketball. The quirk is that Kustasz is coaching players that are his own age, and some of his players are his best friends. However, he doesn't let that affect his coaching.
"When we're one court I don't think of them as my friends," Kustasz said. "I think of them as the players and they're my responsibility and I'm trying to bring home the dub."
Kustasz is the coach of the RARA team named the Daylily Wildfire. "Daylily" is the name of a park that all of the players have played at before. The team is made up of RHS seniors Daniel Villalpando, Jake Grueling, Kevin Cremonesi, Andrew Schaefer, Michael Busse, Michael Kelley, Gian Anovert, Jeffery Ip and Daniel Kalaj. When you have a senior laden team in recreational basketball, keeping them motivated can sometimes be an issue.
"I keep bringing up the phrase 'Palace Bound' because that's the goal, to make the playoffs and play at the Palace [of Auburn Hills]," Kustasz said. "So every time after a timeout we break the huddle on a count of three yelling Palace Bound."
Coaches at any level sometimes have another coach that inspires or influence their style of coaching. Coach Kustasz, also known as "Baby Izzo" (referring to Michigan State Basketball coach Tom Izzo), is no different.
"My coaching inspiration is definitely Luke Walton of the Golden State Warriors because he stepped in and did a great job as interim head coach," Kustasz said. "Also coach [Tom] Izzo because my players call me 'Baby Izzo' and his passion is amazing."
Coaches in any sport always want respect from their players and hope they listen to what they say, and Kustasz is no different. Luckily, his players respect what he has to say.
"I respect several things that Coach Kustasz has to say," senior Daniel Villalpando said. "I like the line ups he puts out there and the schemes he has to score and to stop the other team from scoring."
No coach is perfect, and each coach has strong and weak characteristics about themselves.
"You know, I think he's doing all right but he could show a little more emotion," senior Andrew Schaefer said. "I'd like to see some chairs thrown, maybe a few more technicals fouls here and there to show he's into the game."
The Daylily Wildfire are underachieving currently in their season, sporting a 1-3 record as of February 13th. In some cases, people might blame the coach for that.
"Yeah coach Kustasz does a really good jobs during timeouts and formulating plays to help us win," senior Jake Grueling said. "But nah I'd probably fire him. He's been getting better but he has had real hard time managing playing time and putting out good line ups but hopefully he keeps getting better so they don't have to replace him."
At the end of the day, however, it's players that win games and the coach can only do so much to help them out.
"Despite the 1-3 record right now, I think he's doing a good job," senior Michael Busse said. "We've had a few misfortunate happenings in the last few games, a few missed clutch free throws in the last game, blowing large leads and the refs might play a role in that as well. But he's not doing too bad, he's doing the best he can with the talent he has."