Eyebrow Hype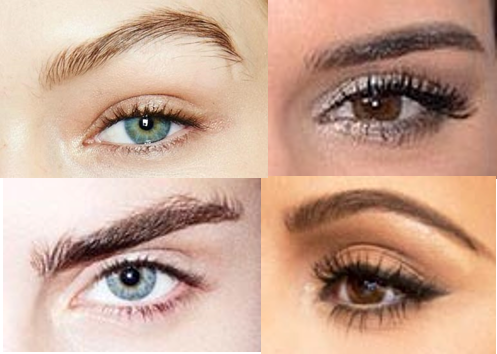 Soon after Viner Peaches Monroe released a vine that introduced the popular saying "Eyebrows on fleek," the eyebrow hype took off. An esthetician and students of RHS share some secrets to the hype that's got everyone talking.
Licensed esthetician Angelica Zadafshar works with clients to groom their brow to the shape that they desire.
"The latest eyebrow trend is to keep them full but defined and shaped," Zadafshar said. "Some people even like the natural look that a lot of models are rocking now and days. Think the Kardashians, the Jenner girls and models Gigi Hadid and Cara delevingne! They are all great examples. Thin and over tweezing is definitely out! That goes for taking too much from the middle also."
Although many people get their brows done by a specialist like Zadafshar, others like to take things into their own hands. Junior Hannah Kalil is one of those people that do them themselves.
"I pluck them myself, probably everyday," Kalil said. "I'll first pluck them and then I'll take the little spooly thingy and brush them up and cut them with some scissors. I use an eyebrow pencil to enhance my brows shape."
Junior Anthony Babbi confesses the shape he likes most and least on girls and guys.
"I prefer thinner eyebrows because it's a better look and I think girls prefer thinner brows," Babbi said. "If they're too thick they look bushy and if they're too thin it looks like you don't have any."
To avoid that horrible non existent eyebrow, Zadafshar has a few tips.   
"Typical eyebrow maintenance is to either wax or thread every 3-6 weeks depending on how fast your growth rate is," Zadafshar said. "For in between, your occasional tweezing helps to clean them up. However we always recommend not going into your shape… That can be disastrous! We've all been there, take one hair, then another and another, etc. Before you know it, you've taken half your brow away!"
Not everyone is blessed with naturally thick eyebrows. Luckily there's makeup to help out with that. Like Kalil, sophomore Alexa Ligon also uses makeup to enhance her brow shape.
"Yes, [I do use makeup to enhance the shape]. I use the Anastasia Dipbrow Pomade," Ligon said. "It stays on all day, it even stays on in water, that's legit."
Makeup is a game changer for sharp, bold eyebrows. You have to remember not to get carried away and keep them natural for an everyday look.
"Makeup can be amazing for eyebrows," Zadafshar said. "A simple fill in with some color can completely change your look! You want to find the the right color match and definitely have a professional show you how to fill them in. There are many products out there from creams, pencils, powders, etc. I personally prefer a powder because you can define but also keep it looking natural. Don't use too dark of a color! By highlighting along the under shape of your brow especially at the peak, you can really make them stand out and accentuate your shape."
Changing your brow shape is fun, but you should know where to stop in order to keep it natural but still know how to rock it.
"One of the biggest misconceptions is that you can make yourself have a specific eyebrow shape that you just don't have, which isn't always the case," Zadafshar said. "Whatever natural shape, arch or no arch your eyebrow naturally wants to take, is beautiful. Just because you can't have this incredible arch, doesn't mean you can't and still don't have incredible brows. Different brows are made for different faces. Find your shape, accentuate it and love it!"