American Sign Language courses continue to draw large numbers of students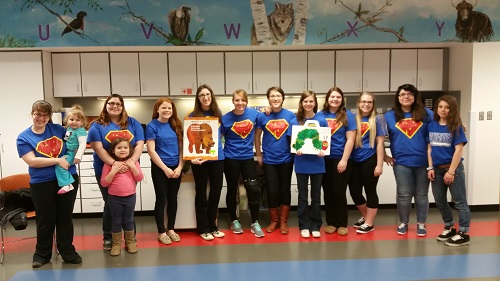 Sign language teacher Ms. Angela Lowry was looking to fill an extra curricular credit at Oakland Community College in 1997 when she decided to try American Sign Language (ASL). It didn't take long for Ms. Lowry to fall in love with the language, ultimately leading her to change her major and finish her degree in the subject.
"What I like about ASL is that I have so many kids come to me after a weekend or after working and say, 'I saw somebody use this and I tried to sign with them,'" Ms. Lowry said. "So, it's there, it's practical and it's used everywhere in this country."
The class also hooks others who are passionate about ASL, and sophomore Lauren Harrison, who in ASL 2, is looking to push for ASL 3 to be offered at RHS.
"I actually plan on becoming an interpreter in the future and I have a group of three students and we are going to the school board to get sign language 3 as a class at ROC," Harrison said.
As students progress through the succession of ASL level 1 onto ASL level 2, the real question that arises is: Where's the ASL 3? 4? If a student wishes to continue studies, how would they do it? Ms. Lowry gives insight on the issue of a possible ASL 3 course in the future.
"I know I've had a couple of kids go talk to administration about it and they were supposed to take it up onto some of the board directors, but I haven't heard anything back other than that," Ms. Lowry said. "I have the curriculum ready to roll out, so I did email that out to administration."
Though there isn't quite an ASL level 3 available just yet, there's still a multitude of things passionate sign language students can get involved in.
"We have levels 1 and 2 as far as that goes. We also have an ASL club, we do different types of songs, videos,  and all that," Ms. Lowry said. "Last year we went to the library to sign 'story time' for some of the kids there. So, we're trying to do more community things as well."
ASL club has become relatively popular in after-school activities, as the interesting culture and general community surrounding the subject and its pupils proves to be worthwhile.
"Well, ASL takes up a lot of my time because I am involved with the club and in the class," Harrison said. "I think ASL is a complex language because you have to communicate with someone without using your voice and that there are many versions of sign language."
Another from the group of aspiring Sophomores in ASL 2, Kendall Jordan, also has found great liking in the language and has become quite engaged with what is being taught.
"In learning ASL it's definitely a visual language which I personally think is easier to pick up on. With spoken languages you have to be able to pronounce words and learn the conjugations," Jordan said. "However, it is tough memorizing all parts of the sign for a specific word like the hand shape, palm orientation, movement, location and body language  because if you get one part wrong it could be an entirely different word."
Though sign language is a specialized course, many believe that there are certain aspects of ASL and deafness that should be common knowledge, and not just specific to students learning the cultural side.
"I think a lot of people need to realize that most deaf people don't feel like they're broken. They don't need to be fixed, they are very proud of their language and their culture. So, you know, it's not something they feel the need to change," Ms. Lowry said. "They're very proud of that, and I think a lot of people need to realize that not every deaf person signs. Some of them are lip readers and oral based. So, people just assume that if a person's deaf, they must know sign language."
As the artful flow of American Sign Language continues to sweep up the minds of young RHS students, it can be admired that such a great understanding of deafness and deaf culture is striving to be taught, as it very well should be.
"The main thing I've learned is that the deaf community is proud to be deaf. They don't see themselves as being disabled, instead they love their language," Jordan said. "Also, I've learned what kind of spaces are best for them, how to interact/approach them, what their basic morals are and lots of other stuff."