Calvin Johnson considering retirement from NFL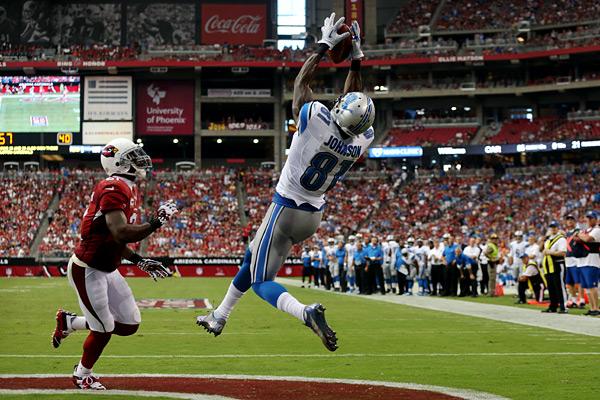 Fans of the Detroit Lions are shocked at the recent developments concerning the playing future of one of their top players, Calvin Johnson.  The 30 year-old wide receiver released a statement earlier this week in which he announced that he was contemplating the future of his NFL career.  Many football fans like sophomore Alex King are disappointed with the fact that he is considering retirement.
"I want to see him play for a few more years," King said. "He's obviously our best receiver and he's really important to our team."
In his nine year career with the Lions, Johnson has scored 83 touchdowns.  He holds numerous franchise and NFL records, including the most receiving yards in a season in NFL history and the most career touchdown receptions by a Detroit Lion.  King recognizes Johnson's talent and how big of an impact he has had on the Lions on and off the field.
"He's a leader," King said. "The team wouldn't be disciplined enough without him, because of his leadership.  He's also a top ten receiver (in the NFL) so we really need him."
There have been plenty of other notable NFL players who have ended their careers too soon in the public's eyes, such as Jim Brown and former Detroit Lion Barry Sanders.
"If I could say one thing to him, I would tell him not to be like Barry Sanders," King said.  "He still has a few years left in him.  Barry left too soon and I don't want Calvin to do the same."
Although it looks as if retirement is a strong possibility for Johnson at this point, King is confident that he is not quite ready to say goodbye to football.
"I think he'll do one more season," King said. "He decided not to play in the pro bowl this year, and he might want to finish his career at the pro bowl next year.  I just hope isn't really going to retire."