5 Christmas Albums You've Gotta Check Out This Season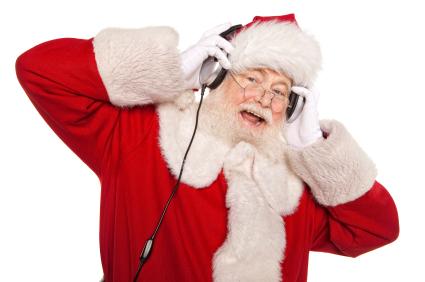 Elvis' Christmas Album – Elvis Presley – 1957
Track List 
Santa Claus Is Back in Town
White Christmas
Here Comes Santa Claus
I'll Be Home For Christmas
Blue Christmas
Santa Bring Me My Baby Back
Oh Little Town of Bethlehem
Silent Night
(There'll Be) Peace in the Valley
I Believe
Take My Hand Precious Lord
It's No Secret (What God Can Do)
What's the best way to pump even more life into Christmas? The King Of Rock & Roll. If Elvis Presley's swinging baritone can inspire a whole generation of 50s teens AND influence the future punk rock movement, there's no doubt that the King can rule a Christmas collection. What else can Elvis do besides inadvertently evoking fear in the parents of both the greasers and the punks? Spread holiday cheer! Elvis' Christmas Album brings holiday favorites like "Silent Night", "Oh Little Town of Bethlehem", and "Here Comes Santa Claus" to cater to a more traditional liking, but adds a special Presley twist with "Santa Bring My Baby Back", and "I Believe". As the tracks sway through the mellow tunes of Elvis' White Christmas/Blue Christmas, it'll be easy to get into the spirit this season.
The Beach Boys' Christmas Album – The Beach Boys – 1964
Track List 
Little Saint Nick
The Man With All The Toys
Santa's Beard
Merry Christmas, Baby
Christmas Day
Frosty the Snowman
We Three Kings of Orient Are
Blue Christmas
Santa Claus is Comin' to Town
White Christmas
I'll Be Home For Christmas
Auld Lang Syne
Everyone's familiar with the 60s-styled background "ooooo's" of the Beach Boy's "Little Saint Nick" that comes around every holiday season. Fortunately for many who appreciate the rise of surf-pop-rock, these revolutionary board-short wearers made an entire album of Christmas tunes. With a collection of 12 songs, there's no need to miss the warm weather – The Beach Boys bring it right back, and you don't have to lose the cheer. The Beach Boys bring a fun twist to "Frosty the Snowman" and pass their own 60s pep onto "Santa's Beard" and "The Man With All the Toys". Cmon, just check out the album cover! How obvious can it be that these dudes don't normally wear dad sweaters? Pretty obvious. But, if you give it a listen, I'm sure you'll find that the Beach Boys know how to do Christmas more than their sweaters let on.
The Classic Christmas 80s Album – Various Artists – 2015
Track List
Christmas Wrapping – The Waitresses
Last Christmas – Wham!
Hazy Shade of Winter – The Bangles
Christmas in Hollis – Run-D.M.C
Jingle Bell Rock – Daryl Hall & John Oates
Do You Hear What I Hear? – Whitney Houston
Christmas is a Time to Say "I Love You" – Billy Squier
Run Rudolph Run – Dave Edmunds

Zat You Santa Claus – Buster Poindexter and His Banshees of Blue

Santa Claus is Coming to Town – The Pointer Sisters

Christmas Time is Here – Ray Parker, Jr.

This One's for the Children – The New Kids on The Block

Slick Nick, You Devil You – Fishbone

Silent Night – The Hooters
You turn on the radio, unable to suppress a sigh as those soft, choir-based Christmas hymns trickle through the speakers. C'mon, this is the holiday season, there's no time for classic orchestra. We're looking for something with as much moxie as Madonna's style or Slash's hair. These Christmas tunes, artfully composed by groups like Wham!, New Kids on The Block and Billy Squier add a huge influence to the feeling of the holidays. As most of the songs on The Classic Christmas 80s Album aren't covers of classics (despite a select few), the effect of new & fun songs can make Christmas that much more memorable, as these tunes have done for the past 4 decades.
Christmas Songs – Bad Religion – 2013
Track List
Hark! The Herald Angels Sing

O Come All Ye Faithful

O Come, O Come Emmanuel

White Christmas

Little Drummer Boy

God Rest Ye Merry Gentlemen

What Child Is This?

Angels We Have Heard on High

American Jesus – Andy Wallace Mix
Do you find yourself yearning for Christmas cheer, but just can't find a way to put away your overwhelming sense of melodic hardcore-ness? No need to reluctantly turn the radio dial to 100.3 WNIC and try to tough it out, here's something for you. What's the matter? Didn't think Bad Religion would have it in them? Fortunately, this is punk rock we're talking about; there are no weaknesses. Especially when it comes to some HARDCORE CHRISTMAS SPIRIT. Christmas Songs includes mostly prominent classics as well as Bad Religion's own "American Jesus". Think of the typical, harmonious, choir-like "God Rest Ye Merry Gentlemen", and "Little Drummer Boy", add in some fast guitar riffs, then have Greg Graffin's punk-hardcore vocals slash through the softness, and voila, you've got Bad Religion's Christmas Songs. Headbang and enjoy.
That's Christmas To Me – Pentatonix – 2015
Track List
Hark! The Herald Angels Sing

White Winter Hymnal

Sleigh Ride

Winter Wonderland/ Don't Worry Be Happy

That's Christmas to Me

Mary, Did You Know?

Dance of the Sugar Plum Fairy

It's the Most Wonderful Time of the Year

Santa Claus is Coming to Town

Silent Night

Let It Go – Bonus Track

Joy to the World

Just For Now

The First Noel

Have Yourself a Merry Little Christmas

Mary, Did You Know? (feat. The String Mob)
If you're looking for an interesting and modern twist on Christmas, then this is the perfect album for you. It's brand-new to the 2015 holiday season and has found well-earned  success so far. Pentatonix, for those who aren't familiar, are an acapella group. This means that there's close to no instruments in their music- just voices. And I've gotta say, if they can absolutely kill "Dance of The Sugar Plum Fairy" – a purely instrumental song – WITHOUT instruments, this album's worth a listen. For the Disney's Frozen fans (the remaining of you surviving, that is), Pentatonix mixes up their own version just as magical as Idina Menzel. That's Christmas To Me puts a unique spin on each traditional christmas song, and dare I say, it might work even better than the ones we're all used to. The group includes some incredible voice talents, and definitely adds some spunk to the holidays.