"Bangerz" lacks actual bang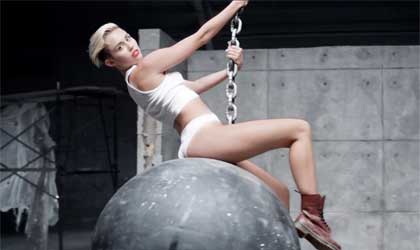 Miley Cyrus and her antics have made international news.  Her wardrobe selections or lack of wardrobe, her opprobrious quotes, the awkward twerking and her wild child peeking through are all elements in publicizing "Bangerz".
Her new album hints at her ferocious side but also shows the part of her that's broken. She puts Hannah Montana behind her as she steps into super-stardom as a new Miley.
Miley's new persona as an artist reflects many other famous female pop stars in their changing artistic direction, which includes  Madonna and Britney Spears. Cyrus' new album has it's own voice, which  marks her musical breakthrough from country-driven Disney star to Hip-Hop diva.
Written and produced by Pharrell Williams, "#GETITRIGHT" could be labeled as sexually provocative, which makes it even more appealing to society.  As well as "FU," featuring a shameless French Montana. In her most "classic song" as Cyrus says, "4X4," which is a dosey-doe country-meets-rap duet with Nelly that sounds worse than it reads on paper. Finally her song "My Darlin," which butchers the classic "Stand By Me" in a destructive manner.
Although Cyrus did an amazing job of showcasing who she is as an artist, it's hard to believe that Hannah Montana could go from a conservative role model to a Lady Gaga in a matter of years.
All in all, "Bangerz" is an interesting album that's a great kick-start to Miley's new outlook on music. However, the lyrics lacked originality in nearly every song.. The music is all the same electronic feel with no hint of real instruments.
The rating of this album is a 7.5/10.