Pistons hold off third quarter rally to defeat Houston 116-105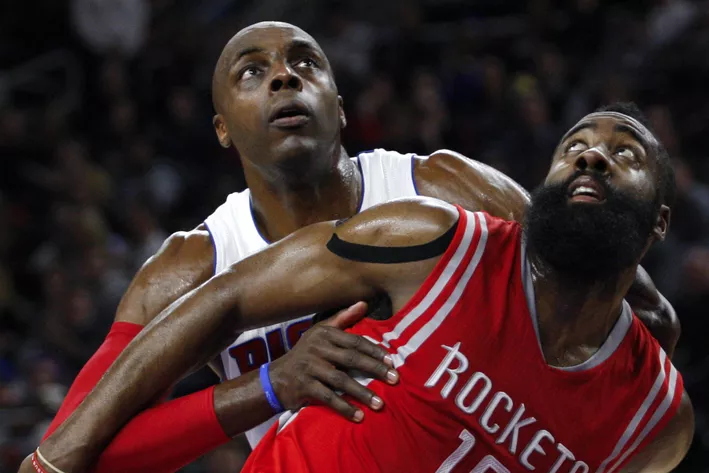 AUBURN HILLS, MICH. – The Detroit Pistons took care of business against the Houston Rockets on Tuesday night, holding off the Rockets' comeback effort to win 116-105.
The Rockets have been fairly abysmal as of late, struggling with a team that made the Western Conference Finals against the Golden State Warriors. Throughout 1st half, the Rockets played an uninspiring brand of basketball, as the Pistons lead stretched to 30.
This is especially embarrassing for Houston, considering that Detroit's backup center, Aron Baynes, was in for Andre Drummond thanks to early foul trouble.
On the offensive end, Detroit was knocking down their shots. Reggie Jackson had numerous triples throughout the first half, en route to his 31 point performance. Jackson also got in the paint effortlessly, utilizing floaters and quick drives down the lane in order to score.
Aron Baynes had his share of scoring on numerous layups and putbacks off of offensive rebounds. Marcus Morris put in his own effort, scoring off jumpshots and a thunderous putback jam in the second quarter.
Defensively, Detroit did a great job protecting the paint, forcing misses from all over the floor. While Detroit wasn't as dominant as Houston on the glass, rim-protection allowed Detroit to have their way in the paint.
When in the game, Andre Drummond simply owned the interior, swatting numerous shots, including a Dwight Howard dunk attempt. Drummond had a tremendous output on both ends of the floor throughout the game, scoring points off of his own post moves.
Detroit could not enjoy the same success in the third quarter nearly as much as it did in the first half. Harden and company were knocking down all sorts of shots from three point land. Marcus Thornton came off of the bench and proved crucial to the Rockets' comeback down the stretch.
However, the biggest factor in the Rockets run was the infamous "hack-a-center" strategy. Andre Drummond's inablilty to knock down free throws helped in a big way for the Rockets at the expense of fans, who booed the actions of the Rockets.
Marcus Morris went down with what seemed to be an abdominal injury, but was able to carry on for the rest of the game.
In the fourth quarter, Houston brought the lead down to six. However, thanks to the shooting of Stanley Johnson, Detroit was able to pull away. James Harden came through to knock down shots for Houston, but it proved to not be enough for the Rockets.
Detroit will play its next game at home on Dec. 2 against the Phoenix Suns.