10 things no one ever told you about being an athlete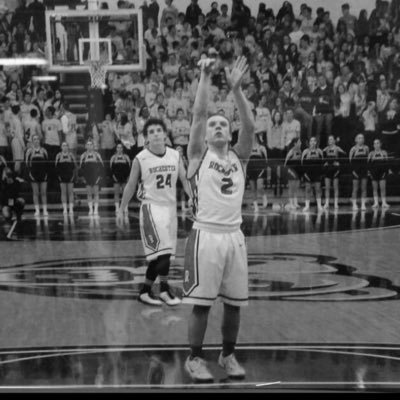 1. David Nagrant, junior, football and track
"No one ever told me that hard work turns into determination. It's a habit."
When you work hard for something, it becomes part of your life. You work hard and accomplish a goal, and then set another one. It's a continuous cycle, always working for another goal and constantly setting higher expectations for yourself. When you're a serious athlete, you want to always get better in order to beat your next opponent and see results in your hard work and dedication.
2. Zo Schultz, senior, soccer and basketball
"No one ever tells you that every athlete has an opportunity to succeed, you just have to put in the work to notice that opportunity that you'll be given."
Like the saying hard work pays off, every athlete experiences the effort they've put into a sport becoming an opportunity. If you work hard and never give up, great things will come to you and opportunities will present themselves, you just have to be able to see them.
3. Ryan Gladstone, junior, baseball and football
"No one ever tells you that winning is fun, but losing can be the hardest thing you'll ever do."
When you work really hard at something, you want to always succeed, and although winning is fun, it can't always be done. While winning is fun, there will be losses. Losing makes you stronger as a player, athlete, and all around person. It makes you work harder because you don't want to experience the feeling of a loss again.
4. Sarah Gendich, junior, basketball
"No one ever told me it takes up way too much of my social time and I have barely any time to talk to my family when I get home."
Playing sports can be great, but there are downsides. Athletes are sometimes forced to choose between other aspects in their life, like social or family time and participating in their sport(s). It can be challenging, but you need to find a balance that you are happy with between sports and every other part of your life.
5. Gabby Gilmore, sophomore, soccer, volleyball and track
"No one ever told me that being an athlete prepares you for more things that people give us credit for."
Sports teach you lessons. Playing a sport allows athletes to learn lessons from following directions to handling a big loss. It's important how you react to a failure, and it's important to know that there will always be another opportunity to succeed. Sports also teach you responsibility and how to work hard. Each player is an essential to success and holding together the team
6. Hunter Schattler, sophomore, basketball
"No one ever told me how hard you have to work."
When you're a young player, there's a lot less work that goes into playing a sport you love. As you grow up, you have to put in more hard work in order to keep up with the competition and do the best you can.
7. Emma Fickel, senior, track and cycling
"No one ever told me how much money I'm going to spend on Icy Hot and Ace bandages."
Playing a sport isn't always cheap. You have to buy supplies, equipment, uniforms, warm-ups, shoes, and many other things. But, when you love the game you play so much, it ends up being all worth it. You will end up overlooking your thing wallet because of your real passion for the sport.
8. Cobe Bryant, senior, football, basketball and track and field
"People always tell you practice pays off but no one ever tells you how it really feels when you accomplish your goals."
Athletes work hard to accomplish their goals, and although you've been told it feels good, you don't truly know the feeling of accomplishment until you've reached your goal. Whether it's beating your hardest opponent, or reaching your desired weight, you will feel a rush of achievement when the time comes.
9. Cate Bennett; Junior; Basketball and Track
"No one ever told me that I wasn't supposed to eat fried chicken at a track meet."
One of the things that has to be sacrificed for sports is junk food. If you're dedicated to your sport, you'll learn to eat better and maintain a healthy diet in order to perform your best. Fried chicken can taste good, but athletes have to cut down on it and many other caloric foods so that they stay lean and ready to play the sport they are addicted to.
10. Ayanna Wyatt, senior, cheer and track
"No one ever told me that being an athlete would influence the type of person I'd be. I used to not get involved and I didn't care much for school, but after becoming an athlete, I've become a lot more responsible."
Sports change your life. When athletes join a team, they become part of something bigger. They accomplish goals and become more involved in academics and even their social life. Participating in a sport can help improve your performance in other parts of your life.