Fall fashion has arrived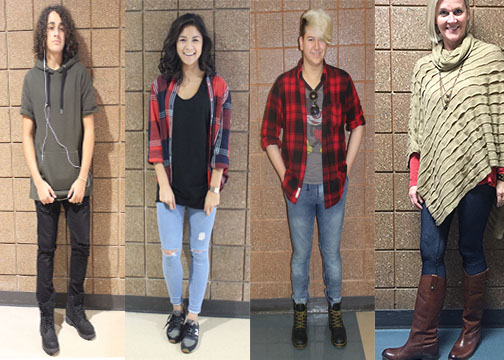 Now that fall is here, fashion is changing from warm weather clothes, to cold. Fashion is how people express themselves, and the students and teachers of RHS are very excited for fall weather and the outfits that come with it.
Senior Ruben Medina talked about how he prefers dark colors for fall. Simple and comfortable outfits is what fall is all about. So wearing your favorite boots and a classic color makes your style simple, yet chic.
"My go to fall outfit is my Dr. Martens (most likely), black shirt and basically all black," Medina said.
Getting inspired for outfits comes naturally to some, but others sometimes need a little help. Looking at what people are wearing around you allows for you to have a similar style to the trends you see. If you don't want to stand out, this is a perfect strategy to being stylish but confident with what you're wearing.
"My other peers are my fashion inspiration because I can see what they're wearing and what their style is," junior Megan McMurry said.
'Sweater weather' is a staple statement made to describe fall fashion. When asked about if fall is sweater weather or hoodie weather, many people said sweater. Student Johnathan Agoubi has a different opinion on this topic.  
"In my opinion, fall is not sweater weather or hoodie weather, it's whatever weather you want to make it, you just gotta be iconic, you feel me?" Aboubi said.
While some get inspiration from their peers, others like to find unique items that no one else will have.
"I used to like big stores and going to the mall but I don't do any of that now. I really like to go to little boutiques instead, like in Royal Oak, or even up north in Petoskey, I have little boutiques that I just love. Or even online shops like Grace & Lace [which is my favorite] they have a lot of cool stuff to shop for," Spanish teacher Beth East said.
If you shop at the same store as everyone else, your style could be identical to someone else's. While going on vacation, if you shop at smaller stores that aren't chains, you stand out and no one can copy your outfit.
"I really like to be fashionable in order to express myself, because I love clothes," Agoubi said.