BRIEF: Administration and athletes revitalize courtyard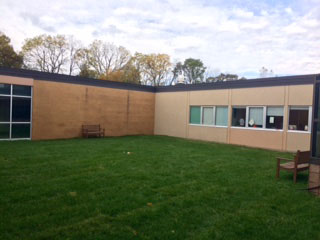 The once-neglected courtyard tucked in the corner of the F and D hallways was in desperate need of renovation. Assistant principal Mr. Casey Westcott realized this, and made it a priority to add life to the courtyard.
"We just wanted to make it a nice space, and that was the goal," Mr. Wescott said. "We thought we could do it this school year, and hopefully be able to use it this spring." 
After the collaborative effort from staff and members of the football team, the courtyard was cleared out and a fresh layer of sod has been added. Mr. Wescott hopes to see the courtyard get use.
"I am hoping it can be used for activities and lessons and for an instructional focus," Mr. Wescott said. "For example, I saw on Twitter an art teacher that had a sculpting class making snowman. I think there is a lot do with the art aspect. Maybe some clubs can use it or maybe during other events, we can have it as an option for another place to go. Maybe during lunches, I look to the staff and students to give us ideas."