Tigers blow four run lead in eighth, lose game two 6-5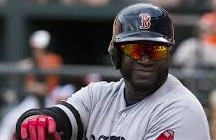 Designated hitter David Ortiz came through for the Boston Red Sox in the bottom of the eighth inning. With two outs and bases loaded, "Big Papi" hit a grand slam that allowed the Sox to come back and ultimately win the game in the ninth inning.
In the bottom of the ninth, catcher Jarrod Saltalamacchia drove in the game-winning run with a single in left field.
It was a game that was set up for a dominating performance by pitcher Max Scherzer and the Tigers offense. Miguel Cabrera and Alex Avilia each had a home run in the sixth inning that added four runs to the scoreboard, which gave the Tigers the go ahead 5-1 lead.
In seven innings of pitching, Scherzer gave up two hits with one run, two walks, and 11 strikeouts. With the way Scherzer was pitching, some questioned manager Jim Leyland's decision to pull him out.
Game three will begin Tuesday as the Tigers' Justin Verlander will go up against Boston's John Lackey in Michigan. Verlander is coming off a Game 5 win in the ALDS against the Oakland Athletics last week.
Right fielder Torii Hunter may have suffered an injury after trying to catch the home run ht by Ortiz. Hunter jumped over the barricade in right field and was slow to get up. He played the rest of the game. His status will be announced soon.