#1 ranked girls golf team hopes to advance to States after today's regionals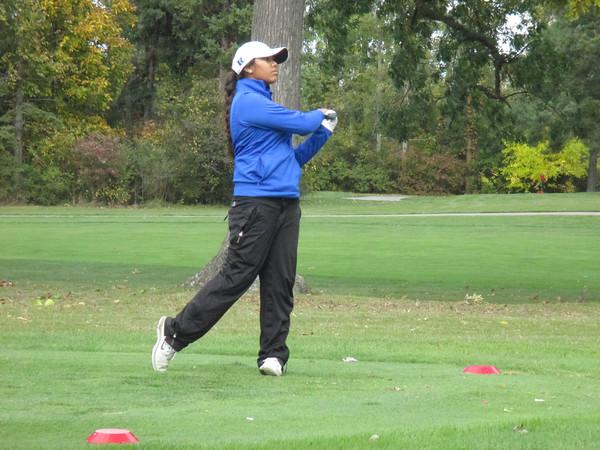 Junior Veronica Haque walks onto the teeing ground with confidence. As she places the golf ball on the tee, her heart leaps with excitement for the match she's about to win.
"I golf all year round so I'm generally prepared for anything," Haque said.
This season has been a very successful one for Haque, as she was named MIPrepZone Athlete of the Week, broke a school record and helped the girls golf team in winning the OAA Red League Championship. The Lady Falcons are currently ranked Number One in the state of Michigan in Division 1, followed by Lake Orion, Brighton, Novi and Bloomfield respectively.
"We've had a very successful season so far, but we have work left to do," coach Jeff Haney said.
Walking into the season, the team determined four aims: to win their League, the Oakland County Championship, Regionals and State Championship.
"We won our league which is a huge accomplishment for us because a lot of the best teams in the state are in our same league," Haque said. "Our next goal is to win regionals and to place well at the state finals."
The team has won seven out of their 10 tournaments so far and are looking ahead to more victories. Team chemistry and commitment has been a major aspect in their achievements thus far.
"My favorite part of being on the team is that we all get along very well and we are a winning team," junior Brooke Busse said. "We had great mental toughness and we're very positive."
Junior and captain Erika Yang agrees that their mindset has played a big role.
"Our mental toughness has gotten much stronger and we are a different team from last year," Yang said. "We want to win every tournament we play and when we are not playing our greatest we find a way to make it work."
Freshman Tori Hawkins sees something similar contributing to the team's performance.
"One of the most prominent factors of success I feel the team has is the way we support each other," Hawkins said. "We never shoot one another down if something is up we give constructive criticism towards each other."
Playing for the team gives the players a sense of duty to perform to their fullest potential and is a key component in training.
"In golf, the sport is generally played individually. When playing on a team, it has a different feeling because you're not only playing for yourself but your teammates as well," Haque said. "It's also so great to be such a close team. We all support each other and hang out together."
Hawkins believes being a part of the team helps to develop the skills she needs as a person.
"I'm able to improve my mental focus for golf as well as other sports and everything else I'll deal with in life," Hawkins said.
The girls' team spirit is infectious, according to coach Haney.
"It's a great group of girls and I look forward to everyday, getting to go and work with them after school," coach Heney said.
Off-season training also plays an essential role in their success.The girls prepare for the season extensively so they can be play their top game at the tournaments.
"Since our season starts in the summer, we all start practicing before hand," Haque said. "This includes going to different golf courses we will compete on so we know how each hole plays."
The lady Falcons are hoping the holes play in their favor at regionals on Thursday, Oct. 9 so they can advance to States.
"If we do the things that we are supposed to do and we play the way we potentially can play, then I think that the sky's the limit," coach Haney said. "There's nothing that we cannot achieve as a team."