Ipsy.com sends makeup samples to try before you buy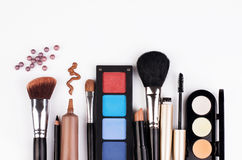 Over the past couple of years, the idea of being able to try before you buy has become more popular. Sites such as Birchbox, Popsugar and Allure have made it possible to sample beauty products before you buy full sizes for a monthly rate. Depending on the things that come in the box and the amount, monthly rates can vary from about five dollars to 40 dollars. Often times, what is given in the box can be worth more than the monthly payment price. One of the more popular makeup sample sites is Ipsy.
Every month, Ipsy comes out with a new glam bag. For a monthly rate of 10 dollars, you can get anywhere from four to five samples. Because the monthly rate is on the lower side, the samples given are not as big as the ones given in more expensive sites such as Allure and Popsugar. Depending on what type of stuff you like, Ipsy may be the sample site for you.
One of the things I really appreciate about Ipsy is the ability to personalize what type of products you like. When signing up for the sight, there is a beauty quiz it asks you to take. The quiz accounts for things like style type, favorite brands and favorite types of beauty products. Another thing that allows you to personalize is to review. Reviewing the products you like or dislike allows the site to either eliminate or continue sending the products you dislike or like. One of the best benefits of Ipsy is the discounts it gives you for the products sent in that month's bag. Once you try out the product and like it, Ipsy gives you a coupon code for that product.
While there are many things that I do like about Ipsy, there are also a few things that I don't like. While I do appreciate the ability to personalize your bag, there are often things that come in each bag that I either don't need or want. When a new bag comes out, you are able to see all the other stuff that other people could have gotten in their bag. Often I find myself looking at the other items wishing that I had gotten those instead of some of the stuff I had gotten. Another thing I find that often annoys me is when, in order to look at what is in the bag I will be receiving, I have to post something to facebook. Having to promote the website in order to see what is in the bag is ridiculous. When already paying 10 dollars a month, it should be a right to be able to know what you will be getting in the bag early.
Overall, I really look forward to getting a new bag each month. Though there are many things that I could complain about, I also think that there are more positives than negatives. Being able to try out products before committing to buying them is really convenient. No one likes it when they pay a good amount of money on something only to find out that they don't really like the product.