Breakfast Bracket Restaurant #2: Downtown Cafe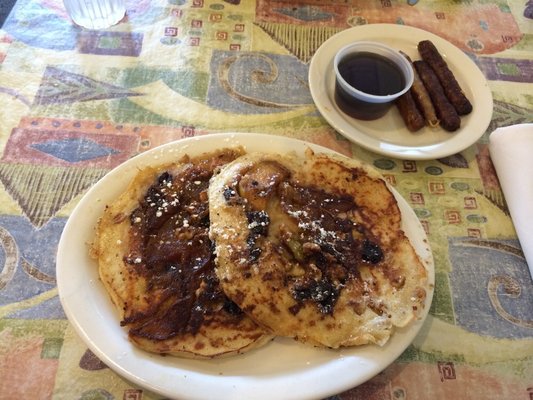 Ambiance: The atmosphere is homey. Everything is kind of cramped, but the place is warm and inviting and you aren't too close for comfort with anyone. The menus are in Comic Sans, and the table cloths look as if they've come straight from your mother's linen closet (except, you know, made of plastic for easier cleaning). The feel is casual and comfortable, just the right type of brunch feeling. (8/10)Price: Certain items on the menu are definitely overpriced, but for other things, the pricing is completely on point. (6/10)

Location: Direct parking is a bit cramped, but the place is still in a convenient location for any Rochester resident. (8/10)

Service: The service was good. The servers are all kind people and there were regular check-ups and refills for water and coffee. (10/10)

Plating: The plating continued the theme of comfortable food, with nothing overstated. The plate just showed delicious food, because that is what it was. (10/10)

Coffee: The coffee was not very strong or particularly special– a regular cup made with a regular coffee maker.

Food:

EGGS

The scrambled eggs were just average. Akin to anything one would make at home, they had a good amount of moisture and texture. But just like the Rochester Brunch House, they were nothing to write home about. Their other egg dishes were much better (such as the Eggs Florentine and Benedict).

BACON

The bacon is salty to the point that it gets a bit overwhelming after a while, but the quantity of the bacon, as well as the crispiness, make up for any possible faults. For those that do not like crispy bacon, order the sausage instead.

FRENCH TOAST

The french toast was heavenly. Downtown Cafe offers a variety of french toast types, all of which have their own flavorful twist and are moist and thick. The amount of syrup (or in some cases fruit compote) given is always perfect for the size of the toast. If you live in Rochester, you must have french toast from Downtown Cafe at least once.

Overall Downtown Cafe is just a regular, homely breakfast and lunch place. Expect to have a comfortable and nice time there and leave feeling full with some type of filling, typically delicious breakfast.