Light show illuminates again
Big Bright Light Show in Downtown Rochester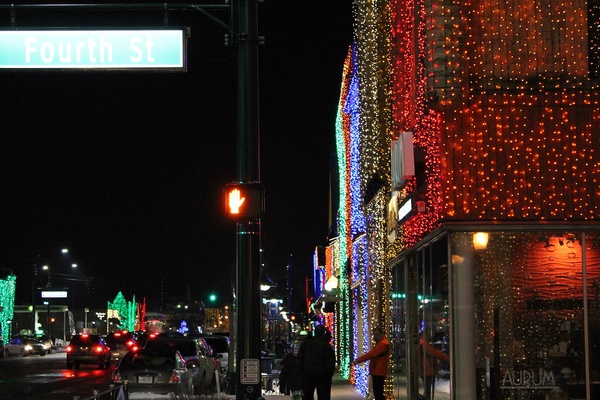 The holiday season provides the Rochester community with attractions and sightseeing every year from Nov. 22 until Jan. 3. People from all over the state come to see The Big Bright Light Show every year. Founded in 2006, this is one of the main attractions of Oakland County and a main attraction for local citizens celebrating the holiday season. Walking throughout the town and seeing the lights is an important part of Rochester.
"I think it brings Rochester as a community together," said student Richard Collins.
For local businesses, the light show increases the amount of customers and jobs available. Sales usually increase to about 30-40 percent around these times of year.
"Has it increased sales for our businesses? Absolutely," Trevarrow, a shop owner on Main Street in Downtown Rochester, said.
The majority of shop owners who benefit from the light show the most are those whose businesses are located directly on Main Street.
Each year, the funding for the light show is provided by business memberships to the Downtown Development Authority, which estimates the cost to be approximately $230,000 for the lights to be installed. The electric bill at the end of the event is usually $3,500. (Found on the Oakland Postlines news which shows statistics of all the shop retail owners and more in downtown). The positive impacts of the show expand beyond exposure.
"Many businesses experience a significant increase in sales as a result of 30-40% for retail workers," said resident Myles Murphy, one of many in attendance at the kickoff celebration.
The Rochester lights have also inspired a lot of other neighboring cities to do something similar.
"I think it is very fitting to the Christmas theme and more cities should do something like this," said Ellie Brock, a regular attendee at the light show since 2010.
Brock states that she goes to see the lights at least once every year now, and plans to continue.
"Many Rochester locals believe that the light show is a good event for the city to host. I think it is a good tourist attraction for the city," Collins said.
Collins, a student who has attended the Rochester light show recently attended other Rochester events, such as the Christmas parade, and other Oakland County holiday events, which helps neighboring communities as well.
Coordinated by our Rochester Staff director Brittaney Wells, who oversees all the events in Downtown Rochester this winter season. Including the upcoming events people are willing to see this season such as the Mom to Mom sales, Santa visits and many more in the following weekdays and weekends.