Shop small for the holidays
Local small business owner inputs thoughts about shopping small
In the United States, there are over 30 million small businesses offering their service to their community. Etsy is a popular website for small business owners to sell their products. This online marketplace has a variety of items, from jewelry, bags, home decor, artwork, stickers, craft supplies, and other small items. There are approximately 4 million sellers currently in business on Etsy.
Rachel Yun, an RCS parent and a local small business owner, opened her online shop, Bubblyroom, on Etsy, in March 2021. Yun makes flower balloons, which are clear balloons with a bouquet of artificial flowers inserted into the balloon. Personalized messages are put on the exterior of the balloon, with the font and color of the customer's choice. These can be gifted for birthdays or holidays. Yun offers other products similar to her original flower balloons, including her new gender reveal balloon which has been the best seller, marketing over 100 buys in one month.
"I always wondered what kind of special gifts I could give to people around me," Yun said. "Then I thought of a flower I liked, and I thought it would be nice to put a flower in a balloon and attach a message like a card on it, so I made a flower balloon. While searching for supplies I needed to make the gift, I opened Bubblyroom."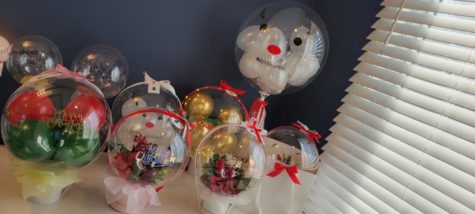 However, opening a small business comes with lots of challenges when going against bigger manufacturers. Small business owners struggle to compete with larger corporations, especially during the holidays.
"It is not easy to compete with the big businesses," Yun said. "Most customers prefer to buy from more known and stocked places, so many small businesses have to find a distinctive way to attract more shoppers. For example, we have to make and sell unique products that cannot be bought from big businesses."
Small business owners also struggle with supplying materials for their shop, which is a factor that most outsiders are unaware of. 
"When it comes to purchasing materials for products, I think that we can be pushed behind in price competition by not purchasing materials in bulk compared to large companies that do," Yun said. "However, by taking advantage of the benefits of local businesses, we are promoting discounts and other promotions in line with local events."
Aside from the hardships that sellers might go through, both the sellers and buyers have better experiences when shopping from a small business rather than a large business. A big difference between the two is the amount of personalization you can get done.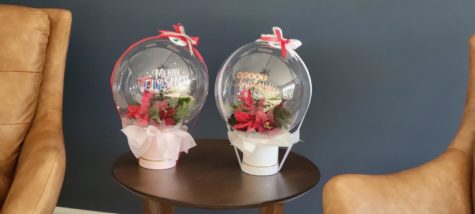 "From a buyer's standpoint, you can get everything personalized," Yun said. "For example, you can compare my small business to Party City, a larger company."
Big companies lack the flexibility of personalization, as the items they have in stock are the items they sell. Not many stores allow customization or alteration; and those that do allow it usually charge their customers more money. 
"You can think of the person who will receive the gift and write a personal message and pick out your own design and colors," Yun said. 
In addition, customer service is more personal and it is easier to get in contact with the  seller.
"Small businesses are more open to a 1:1 conversation with shoppers," Yun said. "As a result, we can respond to customers' needs easily, by changing our products in a way that is more convenient for them."
Outsiders may not notice how important the buyers' actions are to small business owners. Buying their products or utilizing their services is valuable to them, but the reviews you leave have a greater impression, no matter how positive or negative it is. 
"Before starting my own small business, I didn't really think much about leaving reviews on products I buy," Yun said. "Now, I see the importance of leaving reviews and the impact it has on the businesses."
Through positive reviews, sellers know what the buyers like about the products and services, letting them know what they are doing well on. Negative reviews allow the sellers to know where there are areas of improvement and what adjustments they can make to fully satisfy their customers.
"Because of this, I now often leave product reviews when purchasing products to support other small businesses," Yun said.
Yun has earned the 'star seller' label on Etsy, marking her shop for "setting a shining example for providing great customer experience, with a history of 5-star reviews, on-time shopping, and quick replies to any messages they received," stated by Etsy.
This shows that small business owners put a lot of thought and consideration into the products they make for each of their customers and the service they provide to meet the individual customers' needs.
As you shop for future events, consider shopping small and local to support small business owners who are competing with larger corporations daily.