(Re)introducing the faces of the principal's office
Mrs. Collier: Assistant Principal Intern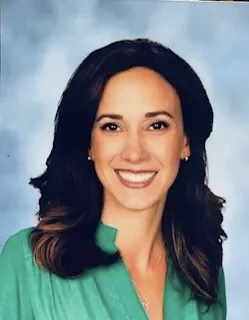 From a Meadow Brook mouse, to a Brooklands bear, to an Hart eagle, to now a Falcon, Mrs. Emily Collier has finally landed at Rochester High School as an administrator. Mrs. Collier is new to RHS and is an assistant principal.
Students spend time with teachers every day and are able to develop a strong bond within the classroom, but a relationship with the admin can look a little different. One may see their faces in the hallways, but how well do students really know our principals?
"I started my career at Meadowbrook Elementary," Mrs. Collier said. "I did that for five years and then went to Brooklands Elementary where I was a fifth-grade teacher for a few years. I was also a resource teacher at Brooklands. After that, I was at Hart Middle School and I taught sixth-grade math, and math for all middle school students in the resource room. Then I came to Rochester as an RHS Admin."
Mrs. Collier had known she wanted to be a part of a principal's staff due to a special circumstance she got to embrace at her most recent school.
"I like change," Mrs. Collier said. "I was teaching for 13 years, and I really liked when I was the teacher in charge at my old building. I liked being able to facilitate everything and reach out to more students than those that were in my classroom. After doing that, I realized that is what I wanted to do, and then they posted this position and I took it as a sign. I applied for it and now I'm here!"
As one can assume, the responsibilities that come with being an admin are very different than those that come with being a teacher. Mrs. Collier noted one of these differences, saying that she is on her feet all day.
"It's really fast-paced, and every day is different but I enjoy that part of my job," Mrs. Collier said. "Fun fact— admins on average walk 12,000-15,000 steps a day. There are 1700 kids in this building too, and I want to be able to get to know as many kids as I can. I definitely think I am suited for high school."
Mrs. Collier has always had a passion for getting to know her students. Even though she doesn't have a classroom to teach in this year, she still hopes to get to know as many Falcons as possible.
"I'm most looking forward to just being with the students," Mrs. Collier said. "I love talking to students at lunch and in the hallway and getting involved with them. Because I was a teacher at Brooklands, I know a lot of the students here because I was there when they were in elementary school, so sometimes I'll recognize somebody."
As a new face on the principal's staff, Mrs. Collier wants to assure all students that principals are friendly, approachable and always looking out for one's best interest.
"I really want students to know that above getting good grades and being successful, I really want them to be happy in their life in general," Mrs. Collier said. "I think sometimes admins get a bad rep that we're out to get kids, and that's the least enjoyable part of this job. I want them to know that they can walk into this office at any time of day if they have a problem, if they want to say something good, if they want to share something that's happened in their life, or if they just need a moment to color in my stress coloring book, I just want them to know that I'm here to support them."
One thing most educators can agree on is that they, too, are always learning. Mrs. Collier is able to learn something new every day as a Falcon and takes inspiration from her colleagues and students of RHS.
"Mr. Wrinkle inspires me and I think he inspires our team to be better and be leaders in our school and to serve others," Mrs. Collier said. "If you don't know it already, our students are leading the way. I am inspired by you guys!"