'Zoey's Extraordinary Playlist' tries to live up to its name with mixed results
Zoey's tries to find its groove with its freshmen season
For all the people who have ever looked at a stranger and wondered what they were thinking, there's a new show for you.
Closing its freshman season in early May, 'Zoey's Extraordinary Playlist' is a new NBC series following Zoey Clarke, played by Jane Levy, a programmer who is able to hear people's innermost feelings in songs and musical numbers after a freak accident. As would be expected, this begins to have repercussions in both her private and professional life. Much of the conflict in the show stems from Zoey entering a new leadership position in her workplace, her conflicting feelings between two men, and her struggle with the diagnosis of her father's degenerative brain disease. The cast stars Alex Newell as Zoey's neighbor-turned-friend, Mo; Sylar Astin as Zoey's best friend, Max; John Clarence Stewart as Zoey's office crush, Simon; Lauren Graham as Zoey's boss, Joan; Peter Gallagher as Zoey's father; and Mary Steenburgen as Zoey's mother. 
Per episode, there are several musical performances that take place, usually revealing an intense feeling that the singer would not communicate otherwise. In one episode early on in the season, Joan sings "(I Can't Get No) Satisfaction" by the Rolling Stones as her marriage deteriorates. In this instance, the frustration conveyed through the song perfectly matches hers in the situation. But there are times when songs chosen for the musical numbers are ill-advised and awkward because their intensity fails to accurately represent the intensity (or lack thereof) of the character's emotion. The best example is when Leif, one of Zoey's coworkers, hears negative feedback on his work and presently sings "Everybody Hurts" by REM. It becomes almost comical to hear him sing the words "When you're sure you've had enough of this life / hang on" as if he's in a life-threatening situation. At that point, the song begins to undercut the conflict, and the storyline is difficult to take seriously. 
Besides that qualm, the performances themselves are usually enjoyable. Although most of the cast do not have professional singing or dancing experience, they can carry a tune and handle the choreography well. But it is hard not to imagine what the show could have been like if it had casted more actors with musical theatre experiences like Astin, who was in the original Broadway production of 'Spring Awakening,' and Newell, who starred in the Broadway musical 'Once on This Island.' The performances could have been less stiff and more naturally emotive.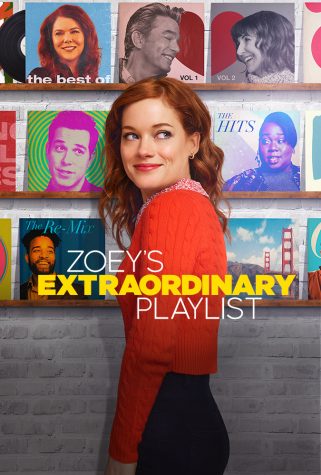 But the cast, to its credit, does have a great deal of charisma and energy that add to the show's charm. They are also well-attuned to their characters, especially frontrunner Jane Levy. She makes Zoey's awkwardness and bluntness endearing but grounded in reality. It seems to be woven into her character rather than a quirk to set her apart from other main characters on television. Mary Steenburgen gives another wonderful performance, balancing moments of grief and joy as her character battles with the impending loss of her husband. The script aids her in this endeavor, as the writers thoughtfully insert comedy before the show begins to feel too heavy, although not every joke lands.
At first glance, 'Zoey's' is a somewhat surprising pick for network television, since it seems to appeal more to a niche audience than the general public, but it does follow in the footsteps of other NBC programming. It has the same family-oriented sentimentality as runaway hit This Is Us and high-concept imaginativeness as the critically acclaimed The Good Place. However, it remains to be seen if this show will share in the success of its counterparts.