The Fire and Ice Festival returns for its fourteenth year
The festival welcomes families all over Oakland County with fun winter activities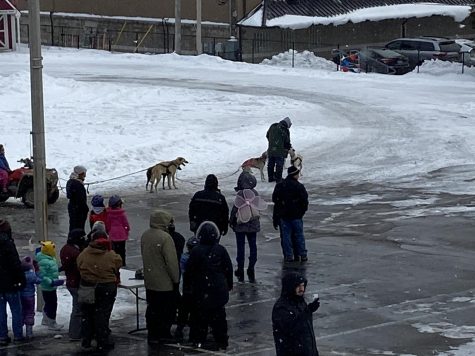 Michiganders have a storied history of refusing to allow a little chilly weather ruin their fun. At this year's Fire and Ice Festival, it was no different.
The Fire and Ice Festival is an annual celebration hosted by Oakland County Parks and Recreation in January that includes a host of classic winter activities, such as skiing, dog sled rides, and snowshoeing. Downtown Rochester simultaneously puts on the Big Bright Light Show, during which all the stores downtown are covered in Christmas lights. This year, the festival was held on the 17th, 18th, and 19th.
"It's [the festival] been really great fit [for the area] because not only does it benefit Oakland County but Downtown Rochester as well," Jenna O'Dell, the events coordinator for Oakland County Parks and Recreation, said.
She continued by explaining how the festival's timing is perfect for the county's residents and families who have felt cooped up after the holidays. Per year, approximately 20,000 people attend the festival.
The festival has hit a few snags in its history because, as O'Dell describes it, it is fairly "weather-dependent." But the ingenuity and preparedness of Oakland County volunteers allow the festival to keep running even when weather conditions are less than favorable. Once, when it was too warm to hold the ice skating competition, volunteers set up a children's ice fishing game, during which they would fish different objects out of water. Another time, a zipline was introduced to keep attendees in high spirits.
"I personally really loved doing the Toboggan Sleds down one of the roads," senior Alexander Reeve said."That was a ton of fun because it felt like we were going a million miles an hour."
Several students at Rochester High have attended the festival previously and have fond memories of it.
"I remember liking the ice sculptures. Those were pretty cool," senior Sam Dumas said.