Senior column: Lessons learned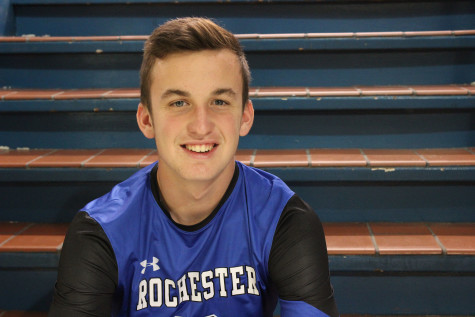 Coming into Rochester High School, I never knew how it was going to be. My two sisters went through it with flying colors, but I always had a sense of doubt in myself. One thing I did know when I first went into RHS is that I was going to try my best in everything I did here and wear the blue and white proudly.
Sports are a big thing that helped me enjoy my time here at RHS. I was blessed to have made the Varsity Soccer team my freshmen year and this started my high school career off on a high note. I had already made friends through soccer before school even started and had a sense of how students treated each other. I had a lot of mentors because most of the kids on the team were seniors. I played on the team all through high school and learned countless lessons and made everlasting friendships.
I came into my sophomore with a lot of stress, wanting to keep a perfect grade record. But I felt I should do something more and play another sport alongside soccer. My life-long friend Samuel Wolfe told me I should kick for the football team. I went to one of the summer conditions to "try out" expecting to be on the JV team, but coach Vernon offered me a spot on the varsity team. I was thrilled and took the position. I learned a lot of lessons about time management and hard work due to both of the sports being in the same season. It was a lot of stress and hard work, but I would never change my decision.
I was nervous for my junior year. I had to prepare for the ACT and keep my GPA up while playing soccer and football at the same time. I was thankful to be named the captain on the soccer team as well. I knew could do it from my sophomore year, but everybody told me junior year is the hardest. Surprisingly, junior year was a breeze for me. The teachers at RHS were understanding and helped me with my busy schedule and also helped me to prepare for the ACT. Unfortunately one quarter of my junior year you could have found me rolling around on a scooter due to a foot injury.
When it came to my senior year, I knew it was going to be a fun, successful year. I enjoyed the sports season, the soccer season was an overall success as a captain and ultimately being named MVP of the team. The football team's last game versus Stoney was a great memory for me. Even though I was just the kicker and scored a field goal and a couple extra points that game, I was inspired by the way the players on that team never gave up. Next, I was named the Sport's Editor and Business Manager for The Talon. This was a major accomplishment because I hope to have a career in a leadership position in business. In addition, I was able to commit to play soccer at Elmhurst College in Chicago, Illinois. Senior year not only made a lot of memories for me it also gave me memories yet to come.
Looking back on my high school career, I am very proud of myself for what I have accomplished. No matter what happens, I will have no regrets for what I did in high school. Every decision I made and every event that I went through made me into the person I am today. As the future becomes a reality, I know what I want to do. I know I can accomplish what I want to do with hard work, and will. No matter how far in life I come, I will always thank Rochester High School for what they have done for me. I will always look back on the friends I have made here and the relationships with staff I have made here and smile graciously. Thank you RHS!