Democratic debate held in Flint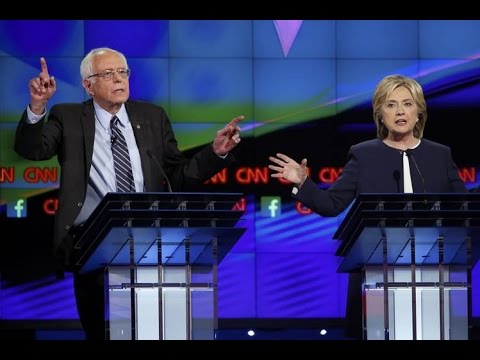 On Sunday, March 6, Flint held a debate between democratic candidates Bernie Sanders and Hillary Clinton at the Whiting Auditorium. The event took place right before the Michigan primaries and most likely helped many residents finalize their voting decisions. Many students, such as junior Mark Landy, have sided with Sanders from the beginning.
"I totally support Bernie," Landry said. "He seems like a trustworthy grandfather type of guy. I also like his stances and the fact that he's actually a human, unlike a certain HillaryBot."
Junior Taylor Garber also believes that Sanders will lead the United States in the right direction.
"I've always sided with Bernie," Garber said. "He has the views and the social power to help this country become better. It's 2016 and we need a political revolution."
Junior Jigar Patel says that he supports Hillary Clinton due to her past success in administrative positions.
"[I support] Hillary Clinton, because under the Clinton administration in the 90s, the economy did very well compared to our economy now," Patel said. "Jobs increased for everyone and small businesses increased. Hillary is the only candidate who can get things done while Bernie Sanders (don't get me wrong, he is a good person) won't pass any legislation through congress. Hillary has the most experience with Bill Clinton besides her. Every candidate has some issue with them, but Hillary is the most qualified candidate."
Landry says that the events of the debate didn't change his mind at all when it comes to who he wants in the White House. He also believes that Hillary has been living up to her 'flip-flopping' reputation.
"The debate didn't change my opinion," Landry said. "Unlike Hillary, I don't change my mind after each debate."
Garber also lacked a change of heart after the debate on Sunday and continues to support Sanders.
"Bernie still knows what he's talking about and he knows how to help," Garber said.
With the limited amount of time given at debates, the candidates are obviously unable to discuss every single issue that the audience has interest in. Though this can often result in uninformed voters who still don't understand a candidate's specific policy, many individuals, such as social studies teacher Mrs. Jessica Bastian, are satisfied with the issues that were covered.
Patel says that he still supports Clinton after watching the debate.
"I'm still with Hillary," Patel said. "Even though Sen. Sanders had good arguments on trade agreements, most of his plans will not work. Such as investing billions of dollars in our infrastructure, free college tuition, $15 dollar wage etc."
"For the most part I was satisfied with the questions that were asked to the candidates during Sunday's debate," Mrs. Bastian said. "I thought that CNN did a nice job with asking questions that were relevant to Michigan."
Landry is also content with the issues that were covered and believes that there isn't much else that hasn't been brought up yet.
"In all honesty, I think that they've gone over everything that's necessary," Landry said. "They've milked the American problem cow dry by this point."
Garber says that she would be interested in watching the candidates discuss racial issues on a deeper level than they have thus far.
"From the debates I've watched, racial tensions aren't mentioned much," Garber said. "I want to hear the candidates talk about racial issues that we have in America."
Mrs. Bastian says that the debate helped to clarify some of the candidates' positions for her.
"Overall, after watching the debate I was able to understand the candidates viewpoints," Mrs. Bastian said. "I think Sanders and Clinton both solidified their views and I was able to walk away knowing where each of the candidates stood."
Landry explains that his opinions on the candidates have been stagnant due to the lack of disparity between each debate.
"These debates are repetitive at this point," Landry said. "I only watch them for Bernie's facial expressions."
Landry also believes that Sanders presents his ideas more clearly than Hillary and that his positions make more sense to him.
"To understand Hillary's views, you just have to listen to the first and last sentence of whatever she says, the rest of it is allegorical narration and strangely placed metaphors," Landry said. "Bernie on the other hand is much more simple. He's that crazy guy preaching conspiracy theories in front of Walmart, but despite the fact he hasn't showered in three weeks, you can't deny that the things he says kind of make sense. However, to paraphrase him: everything has to do with Corporate America and Hillary probably voted for it."
Patel thinks that both candidates presented themselves well, especially when compared to the Republican debate.
"I think both candidates had good arguments and presented their opinions in a well mannered way, unlike the GOP debates," Patel said.
Mrs. Bastian says that she didn't necessarily see a clear winner, but thinks that Clinton will get the nomination due to her seemingly larger range of support.
"I am not sure I would declare a 'winner.' I think both candidates had their moments during the debate and were relatively on the same playing field," Mrs. Bastian said. "I think that Clinton will get the nomination because she has a wider support across the United States. However, I think Bernie Sanders has a lot of people who support how he has conducted himself and runs his campaign without a super PAC."
Landry believes that Sanders was an obvious winner at the debate due to the crowd's reactions and different poll results.
"If you judge by clapping, it is clear that either Bernie Sanders won the debate or Bernie supports have very strong hands," Landry said. "Personally judging by the polls, I'm leaning towards the second option."
Though Jigar supports Clinton, he believes that Sanders was the winner at this particular debate.
"I think Bernie won the debate,' Patel said. "The debate was mostly on how the trade agreements brought Flint from being one of the richest cities in America to one of the poorest cities."
Mrs. Bastian says that she appreciated the fact that one of the local focuses was not only Flint, but Detroit public schools. She also believes that this democratic debate was slightly more heated than previous events between Clinton and Sanders.
"I enjoyed that CNN spent a lot of time talking about the Flint water crisis and Detroit schools," Mrs. Bastian said. "I think both candidates share a common opinion on helping out the people of Flint. I also thought this debate was a lot more tame than the Republican debate from Thursday. However, the debate did have more attacks than previous democratic debates. Overall, I thought Sunday's debate was a substantive debate dealing with domestic policies."
Landry says that one of his highlights was the more tense portions of the debate when the candidates seemed to be ditching their previous, tame attempts at communication.
"The two candidates attacking each other for their hypocrisy was a great highlight," Landry said. "For Hillary, it's trade agreements, for Bernie it's the auto bailout. It was some exciting back and forth action. This was of course followed by Bernie's infamous 'excuse me, I'm talking' line that made listening to the lethargic Flint topic that dominated the first thirty minutes well worth the wait."
Garber says she shares the same opinion as Sanders when it comes to the Flint Crisis.
"I know the first step Bernie wants is to have Rick Snyder resign, and I agree with that," Garber said.
Garber also believes that the debate helped to explain some of the candidates' positions on the disaster, which in turn should have helped some voters make their final decisions.
"With the Flint crisis, they needed to reveal their plans to help Flint get out of the crisis that they're in," Garber said. "Also, Michigan is pretty much a swing state, so they really need momentum here. I feel like Michigan is really undecided between Clinton and Sanders so it's good to have both their opinions."