Tommy Hawes uses a kick scooter for transportation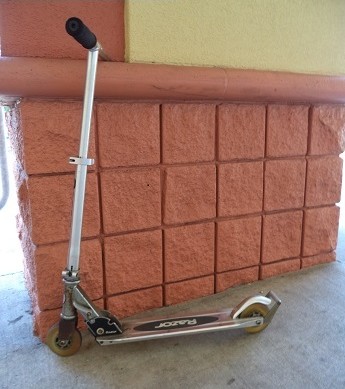 , Ed Grijalva
October 12, 2015
Students have many different modes of transportation, but sophomore Tommy Hawes prefers to ride his trust Razor kick scooter.
In fact, the scooter is one of the many things his peers know him for. However, he also doesn't have much of a choice.
"My parents are always busy and I don't like the bus," Hawes said. "It's the only thing I have to ride because my bike broke and it beats walking like I used to."
He uses his scooter to get to school and anywhere else he needs to go.
"I think I ride eight miles a day on it," Hawes claims. "I ride it to School, (basketball) practice, Lifetime, Stoney Creek High School and even Lake Orion High School for basketball."
Hawes' usage of the scooter isn't a sporadic thing either.
"I ride the the thing everyday," Hawes said. "I live near West Middle School so the travel isn't too bad to school. Everywhere else it kind of stinks."
Most people would dread the idea of going everywhere without using a car, let alone using a kick scooter. For Hawes on the other hand, he not only doesn't mind it but enjoys it.
"I think it's a lot of fun," Hawes said. "I like doing tricks on them, but I can only do bunny hops."
His family and friends find his daily ventures on his scooter odd.
"They think I'm an idiot," Hawes states. "I don't care what they think; I just want to go where I need to go. I think it's funny when people see me riding it on the streets and put it on Snap Chat too."
Because of the amount of miles Hawes puts on his kick scooter, he's had to replace it when it broke down.
"Yeah, I've had to replace the scooter," Hawes said. "I didn't have enough money to buy a bike or something so I bought another scooter after my first one broke."
However, there's a point hopefully in every high schooler's life that they outgrow having to ride the bus, get a ride from their parents or siblings, bike or walk and they can drive themselves.
"I plan on using my scooter for a while," Hawes said. "But as soon as I get my license that thing is going in the trash."